Healthy, Beautiful Skin Starts with Sun Protection
As someone who values your skins health, you know the importance of sun protection, especially in areas prone to sun damage. Traditional sunscreens and hats don't always provide enough coverage, leaving your delicate neck and chest vulnerable. This is especially true when protecting this area against the early signs of premature aging, skin cancer, post medspa treatments and post surgeries to this area-such as having a thyroidectomy.
That's why our founder, a Registered Nurse working in skincare, created
the Solara Top that's specifically designed to protect the delicate neck and chest from the sun's harmful rays, and support your skincare routine and goals by using the most lightweight and comfortable fabrics available to ensure comfort, fit, style, and functionality.
We know how you look and feel in what you wear matters, and we believe that you should love the items you choose to have in your closet; which is why we designed the Solara Top to be extremely comfortable and stylish, with multiple uses. Not only does it have a great and barely there buttery soft feel, but you can wear it layered underneath any of your favorite shirts (all styles!), alone, or slipped over your bathing suit for special protection. Are you ready to meet your new favorite and most versatile piece for your closet?!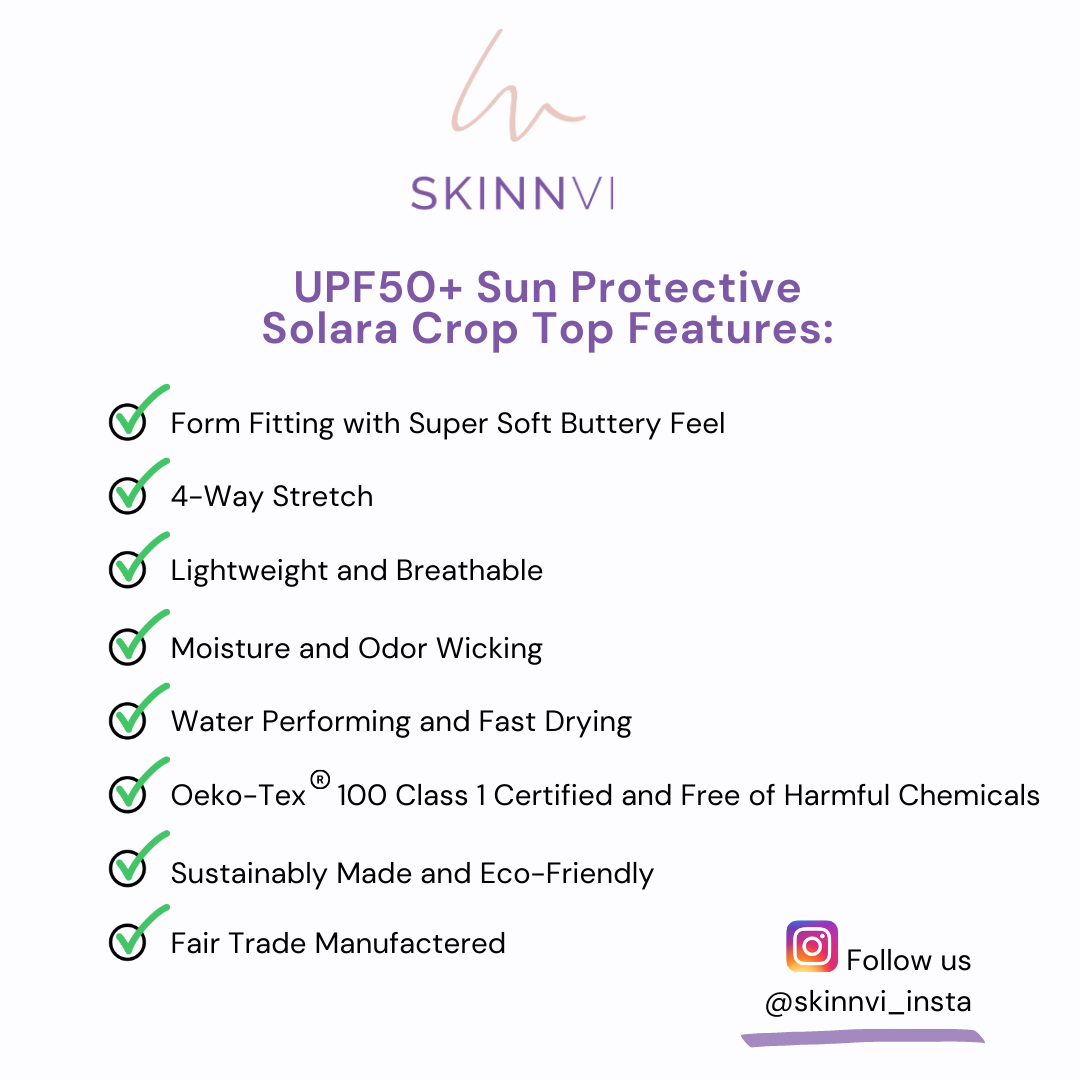 Versatility and Functionality
Great for everyday lifestyle wear to protect you from signs of early aging
Use to protect your skin post med spa treatments (chemical peel, micro-needling, laser resurfacing, plasma pen, etc)
Great for covering scars to promote healing following skin cancer treatments and neck surgeries
Wear alone, layered underneath your favorite tops, or over your bathing suit in the water during peak sun hours
"I purchased this top to help protect my chest from the sun after a laser treatment while my skin needed to heal. I now wear it out any time I know I am going to be in the sun for long. I love that it helps protect my investment in my skin and that it matches anything I wear over it."-Teresa M.
"I already love it, thank you! Super excited that it covers my most exposed biopsy scar on my neck and my two scars on my back! I'm also looking forward to this adding a bit of modesty to lower necklines...I'm a teacher and it's a struggle to find tops that give enough coverage."-Melissa K., Melanoma Survivor
Skincare with Every Wear
With the Solara Top, skincare doesn't start and end with you waking up in the morning or going to bed at night after putting on your moisturizers and lotions, but instead goes on throughout the day every time you wear it! With sun protection being the number one thing you can do for your skins overall health, it only makes sense, right?
Regular price
$0.00 USD
Sale price
$50.00 USD
Unit price
per
Skincare

Sun damage is known as the leading cause of premature aging to the skin (think wrinkles, pigmentation, and uneven skin tone), and is highly correlated with increased risk of skin cancer. We create comfortable pieces specifically designed to cover the areas of our bodies that tend to age faster and have higher likelihood of getting skin cancer. Daily sun protection leads to skin looking younger and staying healthy longer.

Fashion

We create pieces that not only provide UPF50+ sun protection, but that also look great while wearing them! We like to think of it as "double duty". Our pieces are meant to be versatile and can be worn alone, or added to complement your already existing wardrobe. You can wear the same pieces, with hundreds of different looks. They can be worn and look great in the daytime, but also transition into night time wear if convenient at the end of the day. 
Fabric

We use a first of its kind smart fabric. This is a special polyamide blend using extremely fine fibers. The result gives us a fabric that is UPF50+ rated, soft, stretchy, breathable, moisture wicking, fast drying; and does great in the water. The UPF50+ properties of the fabric lies in the fabric itself, with 0 chemical treatments added. It is Oeko-Tex Standard 100 Class 1 certified-which guarantees the absence of substances that could harm the health of adults, children, and babies. 

Sustainability

Our fabric is manufactured using environmentally friendly processes including less green house gas emissions and closed water systems for less waste. The smart technology allows the clothing to break down in a landfill under anaerobic conditions within 3-5 years, while other fabrics can take 10-50 years. Under normal aerobic conditions this fabric is as durable as any other polyamide/spandex blend. More info can be seen here.